Click for larger picture!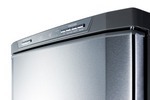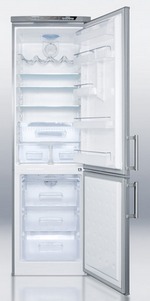 Click for larger picture!
Summit Energy-efficient 11.47 cu. ft. Stainless Steel Refrigerator-freezer
Unfortunately, Vestfrost has stopped production of the CP171SS in stainless steel. However, Summit Appliance, the U.S. distributor of Vestfrost, is manufacturing a replacement for the stainless steel refrigerator-freezer. The new model features frost-free operation without sacrificing energy efficiency. It is similar to the European model in that the style remains the same, with a sleek European look and the freezer on the bottom. The price is still the same, too, at $1445.
For an excellent schematic and complete list of specifications on the FFBF171SS, click here. Some features of the Summit model are listed below:
Height 77.63"

Width 23.63"

Depth 23.75"

Capacity 11.47 cu.ft.

Ext Depth with Handle 26.0"

Interior Height 1 39.25"

Interior Width 1 19.38"

Interior Depth 1 18.75"

Interior Height 2 25.5"

Interior Width 2 17.0"

Interior Depth 2 18.75"

Shipping Weight 190.0 lbs.

Weight 165.0 lbs.

Energy Use--1.14 kWh/day, 416 kWh/year

Bottom freezer design allows easier access to the refrigerator

Full 11.47 cu.ft. capacity inside a slim 24" footprint

Fully frost-free in both compartments for low-maintenance use

Deluxe interior, including adjustable door storage, multiple crispers, adjustable full and half shelves, scalloped wine rack, and LED lighting

Removable transparent freezer drawers

Reversible stainless steel doors bring modern style to the kitchen and allow an easy switch for a changed kitchen arrangement

Digital temperature controls for both refrigerator and freezer sections

Energy-efficient performance for added savings

Unique steel-trimmed glass shelves in fogged style and blue tint

Open door alarm

Audible alarm that sounds if the refrigerator door is left ajar for over two minutes

High temperature alarm

Audible freezer alarm that sounds if the temperature is too high

Optional ice maker (FFBF1171SSIM--$1820).

100% CFC free

Environmentally friendly design without ozone-damaging chemicals

Price $1445. (Price does not include freight.)

SUMMIT's collection of frost-free refrigerator-freezers provides an attractive and user-friendly answer to small kitchen spaces.

The counter-depth FFBF171SS is a bottom-freezer refrigerator sized with a unique 24" footprint and 11.47 cu.ft. of storage. It comes with a platinum cabinet and reversible stainless steel doors complete with chrome handles. Separate digital thermostats for the refrigerator and freezer section are conveniently located at the top of the refrigerator, with a digital temperature readout for easy monitoring. An open door alarm sounds when the refrigerator door is left open for over two minutes and a freezer alarm warns you if the interior temperature has exceeded its suggested range.

Inside the FFBF171SS, frost-free operation in both compartments makes for low maintenance. The refrigerator section includes slide-out shelves with a unique fogged glass look and steel trim. Two mini crispers and one large crisper provide plenty of room to separate fruits and vegetables, while a scalloped steel wine rack is ideal for storing bottles. The refrigerator door includes multiple racks with adjustable clips, accommodating tall bottles as needed. The bottom freezer features slide-out plastic drawers for easy storage and optimum temperature performance, ensuring items aren't exposed to room temperature when the door is opened.

Perfectly sized and featured, the FFBF171SS combines user convenience, energy efficiency, and modern style. This unit is also available with a factory-installed icemaker (FFBF171SSIM).